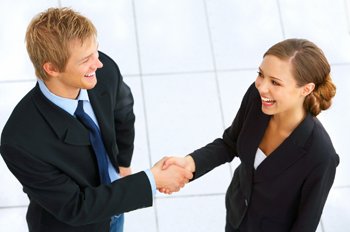 The document imaging industry continues to push forward with new technologies, and Kyocera Mita is leading the charge in enabling next-generation network, wireless and software solutions which migrate perfectly into Kyocera Mita's line of digital products.

Our goal is to become a strategic partner of superior digital imaging devices and also a valued resource for your business and solution needs. The ability to provide customers with a greater level of product integration and performance, coupled with a low total cost of ownership and IT friendly application solutions, such as wireless capabilities, are key differentiators and critical to our success.

Let us introduce Kyocera Mita, our product solutions and industry perspectives, with the hope that you will view Kyocera Mita as a valuable resource.
Satisfied Customers
"I think your company is responsive. You call back to verify my phone order every time. I get the right item & get it on time. I receive the bill within a few days after the shipment. I never have any problems with RedStart. I am a satisfied customer." - Jan, Matrix Financial, Phoenix, AZ

"I have been purchasing products from Cookie @ RedStart for several years now. She is a consummate professional with a personal touch. I have confidence that we will receive our order in a timely manner. She has made ordering such a breeze in comparison with some other companies I will not mention. I hope to continue doing business with Cookie and RedStart as long as I'm with Bank of America." - Tom, Bank of America, Louisville, KY

"Their promptness in returning calls, receiving merchandise, and providing superb customer service is comparable to none. They are all knowledgeable in their field of expertise, and if they do not know the answer to a particular problem they are honest when explaining that. It does not stop there. They will find the source that can eliminate the problem. It is a pleasure to do business with them, as their demeanor is "always" pleasant, and they deliver results….Hats off to RedStart, every company should be as efficient and pleasurable to work with!" - Celeste, ABN Amro, Jacksonville, FL

"As a very small self-publishing and print-on-demand company, we need fast, responsive service at a good price in order to help our would-be authors get their books in print. RedStart is the most responsive supplier we have, and the best in terms of combining price and quick delivery. If we need some special treatment or have any questions, we just pick up the phone or email RedStart. They give us the kind personal service we try to give to our own customers." -Tim, BooksByBookends, Ridgewood, NJ

"Your products and pricing brought me to you in the first place. The speed at which my order arrives and the customer service I have received have been outstanding!" -Eric, Phase One, Inc., Tustin, CA

"The only thing more impressive than our Kyocera Mita FS-C5030N Color Laser Printer is the great service and support we get from RedStart. The printer is much faster and far more cost effective than the one it replaced. Getting the consumables and accessories from RedStart is a great experience with excellent prices and even better communications." -Bill, Monster Tower, Alpharetta, GA

"I first found RedStart while I was searching the web for cheaper toner after purchasing our Kyocera Mita printer. Didn't take me long to find the lower prices and free ground shipping!! I started ordering right away and soon realized how great the customer service was as well. -Isaac, Mojo Wholesale, Saint Paul, MN

"RedStart has been great in the area of customer service. Their response to our needs has always been quick and reliable." -Merle, Comfort Keepers, Saltillo, MS

"When I finally found RedStart after trying a few other distributors on the internet it was like a breath of fresh air. RedStart was knowledgeable about the products they sell and were instrumental in helping our company secure a new client. I highly recommend RedStart." -Brandon, CBC Computer Services, Bainbridge Island, WA

"I first learned about RedStart on the computer while looking for more reasonable pricing for our Kyocera toners. Each time I have placed an order it was always the same - it is one of the few places that ordering supplies is not an ordeal. Keep up the good work." Cookie, Mayo Simmons & Harris, Rocky Mount, NC

"Finding RedStart has been a blessing. We were asked by a large company to support their Kyocera printers and with the gracious help of RedStart we have been successful. RedStart not only supplied us parts and consumables at wonderful prices and excellent service, but also tech support as well. I would highly recommend RedStart as an excellent vendor." Will, Duraline, Flat Rock, NC

"I appreciated RedStarts help when the supplier we bought the Kyocera printer from did not stock the toner we required. RedStart always had plenty in stock and shipped the same day!! I do appreciate RedStart's large inventory of toners and understanding my urgency." -Antoinette, DYCO, Inc., Bloomsburg, PA

"I have bought from you guys.. a couple times.. and have been really satisfied with your assistance, and the information you give to me. Also, quick response and availability of products." -Sheila, PZone, Miami, FL

"Thank you so much for all your help in placing my order earlier this week. The printer arrived promptly today; I have set it up successfully and it is working like a charm. I have recommended your company to some colleagues because it is rare nowadays to experience the kind of customer service that you gave me, and I won't forget it." - Margaret B., Portland, OR

"Because our advertising information is always changing we made the choice to print our brochures in house. We rely on RedStart for prompt delivery of toner as needed and that plan is working well for us and we appreciate the service"- Loren , Femrite Enterprises, Dawson, MN

"Steve,

Thanks again for setting that up for me. I was so impressed with both the gentleman that called me and the outstanding service he provided. He went over and above what was necessary and I am so grateful!!

I was also surprised to learn that it was free of change. I would have gladly paid for that service. Often times businesses do not offer good customer service. That is so important. You have it all: good prices and good service.

When I need something, my loyalty will be with RedStart.

A Happy Customer!

Laurie